Posted on 24/06/2021 11:09 AM | by NaijaHouses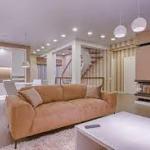 Getting an apartment is just one of many hurdles there is in acquiring your dream home. You don't want to feel relaxed too soon when there is more work ahead. There is the aspect of moving in and also setting up your apartment. But as much as moving in can be a headache, knowing what to put in a particular place make your work seamless, from furniture to kitchen appliances among others.
This leads us to one thing that is mostly ignored by a lot of people: Lighting. There is a special effect that good lighting gives every home, the choice of lighting in your home does not only add to its aesthetics but decides the overall ambiance of the home.
The first step to getting the perfect lighting for your home is understanding your home type and the type that soothes your person. Below are tips on how to choose light for your home.
Read More